I realize that 2017 is well underway, and many of you may have already broken all of your New Years resolutions. I meant to have this post up before the new year, but I couldn't be bothered to open my laptop while we were traveling over the holidays. Oops!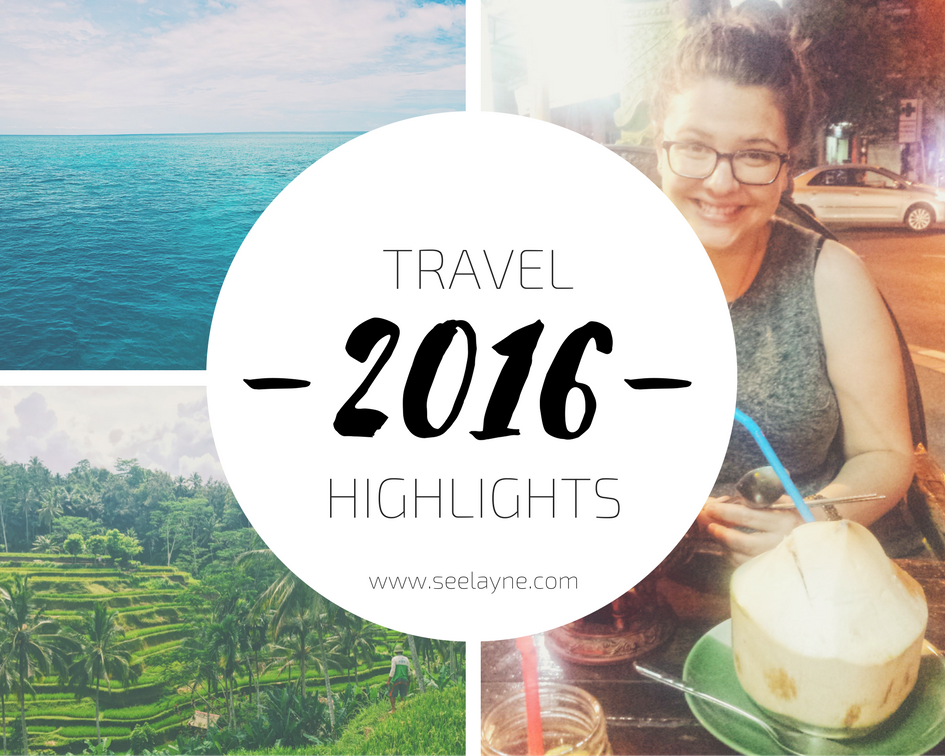 2016 was overflowing with new experiences, and I took some time to gather my favorites to share with you. Even though it's a little late, I still wanted to take a few moments to share my 2016 travel highlights. I hope you enjoy!
2016 Travel Summary
Cities visited – 21 total, some multiple times
Flights taken – 17
Miles flown – 41,945
Countries visited – 6
Continents visited – 3
AirBnb stays – 35 nights
Hotel stays – 22 nights
Shinkansen (bullet train) rides – 17
2016 Travel Highlights
Thailand
We spent Golden Week (a week full of Japanese holidays at the end of April/beginning of May) in Thailand! The first 3 days were spent in Bangkok (at the Conrad Bangkok – gorgeous!), then made our way up to Chiang Mai. We finished our trip with 6 days on Ko Samui.
Bangkok
One of the highlights on this trip included the food tour we took that started at 9:00 AM on our first morning in Bangkok.
We took the Historic Bangrak Food Tasting and Culture Tour with Bangkok Food Tours and would definitely recommend it! It was a perfect way to begin our Thailand trip.
Chiang Mai
After Bangkok, we flew north to Chinag Mai. The purpose of visiting this city was so that we could visit the Elephant Nature Park in Chiang Mai:
This was a must-do experience for me in Thailand, especially after reading Diana Edelman's blog post titled The Truth About Riding Elephants. Reading the truth about this gorgeous creature's mistreatment in Asian cultures was utterly appalling, and I knew that I wanted no part of it. I was happy to visit this inspiring park and see firsthand the great work that they are doing to save elephants (and tons of other animals!) and educate others about why it's a terrible idea to use animals for human entertainment. Seeing these animals roaming free on the property and hearing their rescue stories is not something I will soon forget.
Honarable Mention
I can't talk about our trip to Chiang Mai without mentioning the interesting meal we had one evening.. We don't often sit down without checking a restaurant's reviews (and usually never even go inside unless a place has 3.5 stars — there are just too many great dining options to waste one!), and I guarantee that we would have passed had we taken a moment to see what previous diners had to say about this place.
The food was decent but the service was terrible, albeit hilarious. The owner was rude but highly entertaining. Thankfully (for us) there was a German couple who ended up getting the brunt of the owner's antics, and all we could do was watch. We didn't dare leave without eating all of our food. I don't think my writing can do justice to the craziness, but I will leave you with this (terrible quality) photo Jason snapped while it was happening:
We also enjoyed our time on Ko Samui. We basically showed up at our hotel (the Baan Bophut Beach Hotel for anyone interested) and relaxed. Jason took a dive course that had him walking down the beach for a few mornings to catch the boat out to the reef, and returning happy and tired just before dinner. He took some awesome video during his dives at Koh Tao. Em and I joined him for a day snorkeling trip, and it was some of the best snorkeling we've done…anywhere. Our relaxing week ended with Jason and Em renting a scooter for $5 and venturing around the island while I planted myself with a book, a cocktail, and this view from our room:
Which is pretty much the best way to spend a vacation in my opinion!
Family Visits
We were lucky enough to have a flurry of family visits in the spring of 2016. We traveled all over Japan in April, but one of the highlights was getting a chance to rent and be dressed in a kimono in Kyoto. This was something I had wanted to do ever since my first visit to Japan. We visited the Okamoto Kimono Main Shop, and everything from making a reservation to returning our kimonos at the end of the day was perfect. After we were dressed, we walked over to Kiyomizu-dera temple to snap some more pictures:
Another highlight was a trip to Hiroshima. This wasn't my first trip; we visited the previous summer, but this time the spring weather was a lot more enjoyable than our sweltering trip the previous July. I made the trip to Hiroshima with my sister-in-law, and was happy to have a second chance to experience the city as well as a mini girls' getaway! 
We also hopped on the ferry to Miyajima Island to see the famous torii gates, the deer, and Istukushima Shrine:
Solo Travel
Towards the end of 2016, I decided that it was time to start traveling on my own. I booked two trips: one to Bangkok and the other to Bali.
Bangkok
I spent 4 days in Bangkok at the end of November to attend the 7 in 7 conference. The conference gave me a chance to learn more about the digital nomad/remote work community of which I find myself a part of now that I am freelancing. The conference was a great excuse to take my first trip solo, and it was inspiring to meet other people who are working on cool projects. This was my second trip to Bangkok, and it was fun being able to experience a different neighborhood. I stayed at the Beat Hotel Bangkok, and it was an artsy hotel next to the Conference venue: the coworking space, E88 Bangkok.
Bali
About a week after returning from Bangkok, I left for Bali! I had such an amazing time in Bali and fell completely in love with it. Seriously, I am sure everyone I know is sick of hearing me talk about how much I love Bali. I am constantly checking flights to figure out how/when I can go back. Here are a few of my favorite pictures from my trip:
Christmas Holidays
The Christmas holidays were a little different for us this year: instead of heading back home to the States during Em's school break, we decided to make a proper holiday of it and booked a trip to Australia.
Hong Kong
We had to have an overnight stopover in Hong Kong on the way, so we decided to extend it for a few days in order to explore the city. The highlights of Hong Kong included a taking a food tour where we explored the Central and Sheung Wan neighborhoods by stopping at markets and local eateries to sample dim sum, barbecued pork, wonton soup, and more. Unfortunately I don't have any pictures to show of the food tour as I was too busy eating! Jason took a lot of video, so hopefully I will have more to share soon.
I can share this plate of barbecued pork — we sampled this dish during the tour and loved it so much that we stopped by on our way to the airport to get another fix:
We also took a day to check out Hong Kong Disney since Em and I are on a mission to visit all of the international parks. 3 down (Tokyo Disneyland, Tokyo DisneySea, Hong Kong Disney), and Disneyland Paris and Shanghai Disney to go! We were some of the first people in line that morning and we practically had the place to ourselves for the first 4 hours after the park opened.
Australia
After Hong Kong we made our way to Australia. We spent 6 days in Sydney, and enjoyed the sights, the vibe, the beaches, the food, the coffee, the….everything! Here's my favorite photo from Sydney:
After Sydney, we flew up to spend 7 days in Cairns, of which 4 were spent on a boat with this view: 
I wasn't sure what to expect when we booked this part of our trip with Reef Encounter (we did the 4 day/3 night Top Deck Club package and would 100% recommend it), but I went along because doing a liveaboard on the Great Barrier Reef was on Jason's bucket list. I (wrongly) assumed that we would get antsy being stuck on a boat for 4 days. This part of our trip turned out to be both incredibly entertaining and relaxing. Jason dove, Em and I snorkeled, we met other world travelers, we ate amazing food, and we relaxed. It was the perfect way to ring in the new year. 
As you can see from the highlights, it was an incredible year. I feel very lucky to be able to discover so many new places and most of all, to visit said places with the people I love most.
Here's to more adventures to come in 2017!